Now in a state of disrepair, what does the future hold for the Iveagh Trust Public Baths?
At an international conference of art historians recently held in Dublin, allegations were made that Dublin Corporation were neglecting to restore the city's Iveagh Baths.
At the conference, the Iveagh Baths were described as one of the best examples of Art Nouveau architecture in Ireland.
Built on Bride Street at the turn of the century the baths were part of the Iveagh Trust development and were subsequently sold to Dublin Corporation in 1951. At the conference, Dr Nicola Gordon Bowe said that the sale of the building to Dublin Corporation was a grave mistake and over the years it has fallen into disrepair and vandalised due to lack of security on the site. The Iveagh Baths closed in 1985 and Dr Bowe believes that the building will be now left to rot.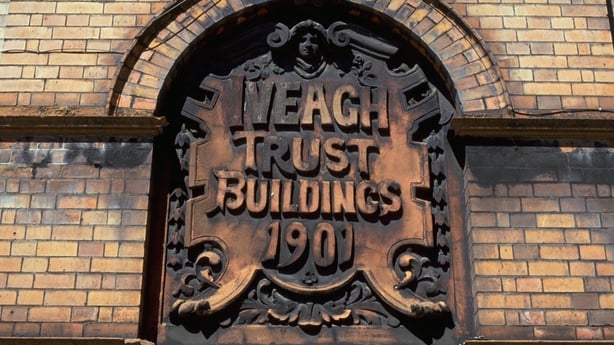 Iveagh Trust Buildings
It is estimated that the restoration work would cost a million pounds. Noel Carroll of Dublin Corporation believes that the restoration and development of the baths would be better managed by a private developer. He says that the baths have outlived their usefulness and it was costing the Corporation a small fortune to keep them operational. He remains optimistic about the future of the building but believes that it will be in the hands of a private developer.
We see the future more in the hands of a private developer.
An RTÉ News report broadcast on 18 April 1990. The reporter is Teresa Mannion.