Pronunciation enthusiast Rory Grealish has plenty to say about standards of spoken English.
Teacher of speech and drama Rory Grealish was once so vexed by RTÉ newsreader Don Cockburn's pronunciation that he wrote a letter of complaint to the RTÉ Guide.
Some members of the 'The Late Late Show' audience volunteer to read aloud a short news bulletin, and are marked on their pronunciation.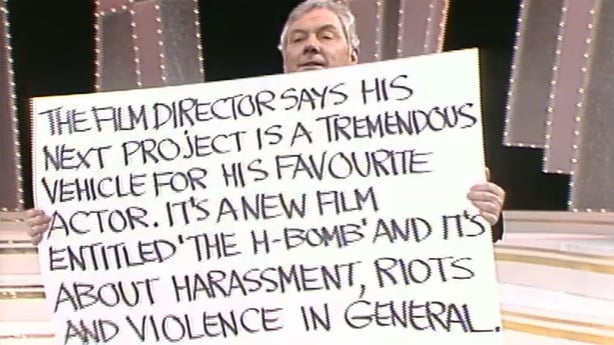 A woman who was in Doireann Ní Bhriain's class at school is declared the winner.
Writer Ulick O'Connor, also a guest on 'The Late Late Show', does not think there is anything wrong with the Dublin standard of spoken English.
I don't think I should take my standards from an imperial class who developed an accent simply to keep other people in their place, that's what the English accent is about, the English upper class accent.
Rory Grealish reads a news bulletin himself allowing five members of the audience to mark his pronunciation. Ulick O'Connor is critical, accusing Rory of using a long A when the short A sound is Irish. Rory admits the long A sound is posher.
A member of the audience believes Dubliners have the most intelligible English in the world. Rory agrees that foreigners come to Dublin in droves to learn English and that,
Hiberno-English is terribly easy to understand.
Rory Grealish is irritated by urban dialect, particularly a strong Dublin accent. He says this is not an accusation against Ulick O'Connor who speaks,
Montrose standard, Dublin 4.
Rory denies he is a snob preferring to see himself as a pronunciation enthusiast.
This episode of 'The Late Late Show' was broadcast on 15 February 1985. The presenter is Gay Byrne.