Niall Tóibín reviews a new Irish feature film 'Last Tangle In Dingle'
Niall Tóibín is the presenter of Cinemar who critiques Ireland's first home produced feature film 'Last Tangle in Dingle'.
Almost two of the actors are Irish, another is almost Irish and another still is almost an actor.
'Last Tangle in Dingle' was jointly produced by John Huston and the Department of Education.
The film is revolutionary both in form and content.
Extracts from 'Last Tangle In Dingle' feature Seán (Derry Power) and Una (Barbara Brennan).
The plot concerns Una, an aging drag queen and member of the Gaelic League, who decides to up sticks and move the remote mountains of West Kerry where she falls in love with Seán a rural philosopher and occasional small farmer.
Funding from the Department of Education towards the film was conditional on certain didactic standards being met whereby dialogue is repeated for viewers with weak Irish.
The audience is encouraged to repeat the lines thus making the play.
This episode of 'If The Cap Fits' was broadcast on 27 December 1973.
'If The Cap Fits' was a satirical sketch show starring Niall Tóibín along with actors Maire Hastings, Emmet Bergin, Barbara Brennan, Derry Power and Chris Curran. The show was produced by Brian MacLochlainn with additional writing from Eoghan Harris and Brendan O hÉithir.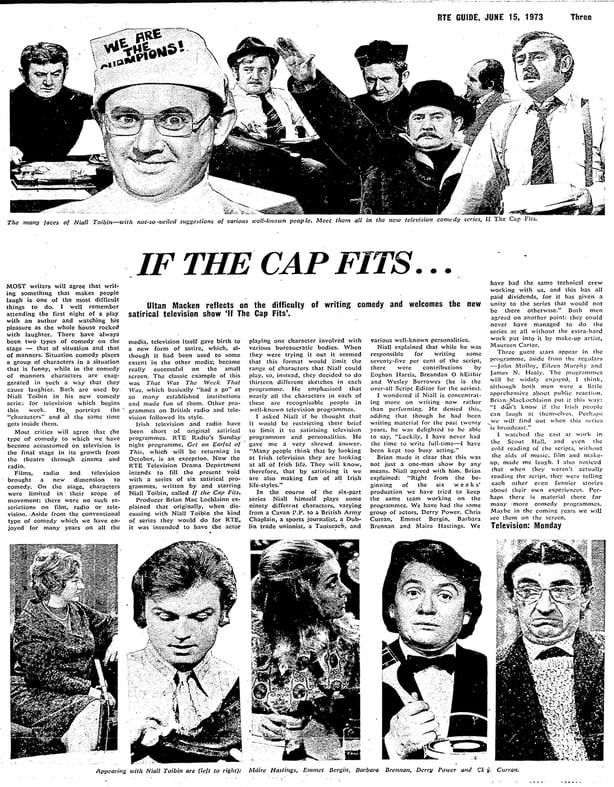 RTÉ Guide 15 June 1973 - If The Cap Fits