Is Irish society in danger of losing sight of the valuable contribution made by its elderly people?
Eibhlín Ní Mhurchú and Pat Mhaire Val are the product of a fast disappearing culture, the richness of which is not contingent on new technology.
Eighty three year old Eibhlín Ní Mhurchú a native Irish speaker from Corca Dhuibhne (Dingle Peninsula) now lives in Dublin. She is a panellist on RTÉ Raidió na Gaeltachta's 'Leagan Cainte' which discusses Irish grammar, words, turns of phrase and proverbs.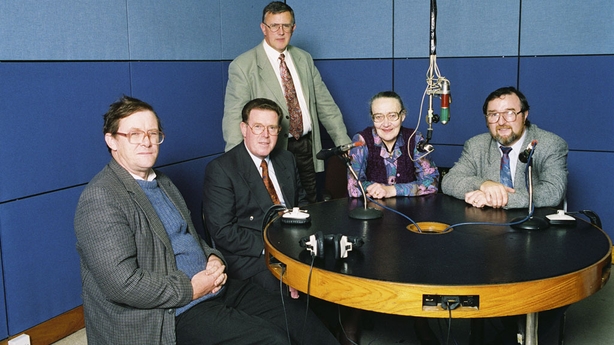 Eibhlín Ní Mhurchú sympathises with elderly people who have dementia as being able to make sense of things is of utmost importance to her.
At her home she prepares a dried salted ling a fish traditionally eaten in Corca Dhuibhne on Christmas Eve, New Year's Eve and on Little Christmas Eve. The fish is sliced, boiled and eaten with a white sauce. Eibhlín also enjoys a glass of whiskey but insists it has to be well diluted.
Eibhlín's daughter-in-law Susan owns a lingerie shop in the Westbury Mall in Dublin. On a trip to the city centre she collects her stockings. She rejects wearing tights.
I like my freedom.
Seventy eight year old bachelor Pat Mhaire Val lives alone in An Aird Mhóir i gCill Chiaráin (Ardmore in Kilkieran) in Connemara. The important things in his life are his health and his work.
Christmas is a lonely time for Pat Mhaire Val as he once spent it with his family. When he was a boy his mother used to make a cake and having some raisins to eat was the ultimate treat. Pat does not feel sorry for himself, as he is healthy and finds comfort in his faith.
Pat Mhaire Val makes lobster pots and demonstrates how to weave hazel and osier rods. He once won a television in Leavy's pub but gave it away. When in the company of his friends, he prefers to talk rather than watch television.
This episode of 'Léargas' was broadcast on 30 November 1999.