Restoration of Crown Alley and Merchants Arch areas of Temple Bar in Dublin city centre.
The official opening of the newly restored streets was performed by Lord Mayor of Dublin Seán Haughey.
The streets around Crown Alley have been repaved with cobblestones and new lamps have been installed.
Dublin Corporation has spent almost a quarter of a million pounds restoring this part of Temple Bar.
One of the oldest areas of Dublin, it's now a unique mix of small shops, restaurants, cafes and artist studios.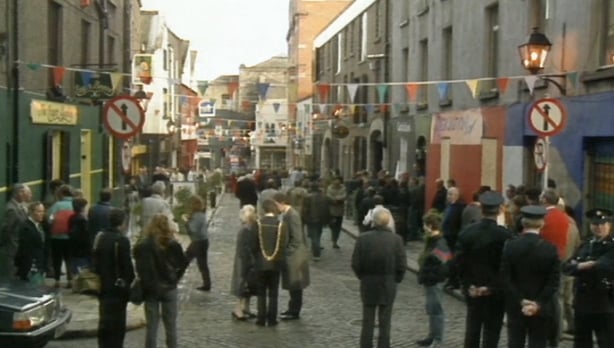 Temple Bar (1989)
Despite the development, a shadow still hangs over the area over plans by CIÉ to build a bus station, a plan which is opposed by both local traders and politicians.
Seán Haughey describes the plans for a bus station as "totally inappropriate".
Times have changed and we've become more environmentally aware of the importance of this particular area.
An RTÉ News report broadcast on 26 October 1989. The reporter is Una O'Hagan.