Final preparations are being made for the Dublin City Marathon.
The fifth Dublin City Marathon will begin on Harcourt Street, with the main group of runners setting off at 11am. The route is much the same as it was for the 1983 race.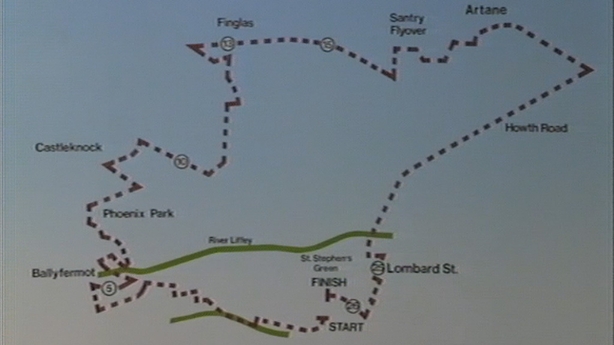 Participants will go from the city centre to Ballyfermot, Castleknock, Finglas, Artane and back to Stephen's Green along the Howth Road. With six miles to go, many runners experience fatigue but marathon runner Neil Cusack says crashing out at the 20 mile point should not happen,
If you pace yourself well in a race and you know your limits, you can run hard toward the end of the marathon.
The 1984 Dublin City Marathon is the first European Economic Community (EEC) marathon. Two runners from each of the ten member countries are being sponsored by the EEC Commission. They are among the many registering at the Mansion House in Dublin.
Dick Hooper, winner of the first Dublin marathon, is expected to win, however, the favourite to win the women's event, Emily Dowling, has withdrawn to concentrate on running for Ireland in Madrid.
Live marathon commentary will be on RTÉ Radio 2 and there will be a special television programme on RTÉ 2.
An RTÉ News report broadcast on 28 October 1984. The reporter is Joe O'Brien.