Python pulled from the River Slaney in Wexford believed to have been an abandoned pet.
Southern Regional Fisheries Board officers netted their most unusual catch to date during a routine biodiversity survey of the River Slaney. They were at Edermine Bridge, three miles south of Enniscorthy, when they identified either a Rock or Burmese Python, ten feet in length, in their nets.
It is a first for fisheries officer Róisín O'Callaghan,
We were usually used to finding eels and maybe some lamprey, but definitely not a big python.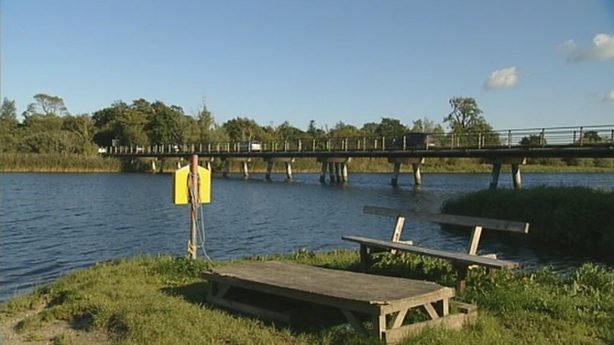 Edermine Bridge, Co. Wexford (2009)
It is not known where the snake originated, but most likely it had been kept as a pet prior to its release, says Lorcan Scott of the National Parks and Wildlife Service. The popularity of exotic pets increased during the Celtic Tiger, but with the downturn in the economy, some owners are disposing of them carelessly.
These animals are very expensive to keep, and require a lot of handling.
The python may have been living in the wild for some time, as it is believed to have been malnourished. It has been taken to Dublin for further examination.
An RTÉ News report broadcast on 15 September 2009. The reporter is Laura Fletcher.