Thousands turn out to see the last solar eclipse of the millennium in Ireland.
The solar eclipse should have been over ninety five per cent visible in the west and midlands, but was obscured there by poor weather conditions. It was not all doom and gloom for eclipse watchers in the west though, as some areas like Boyle in Roscommon were lucky enough to catch a glimpse.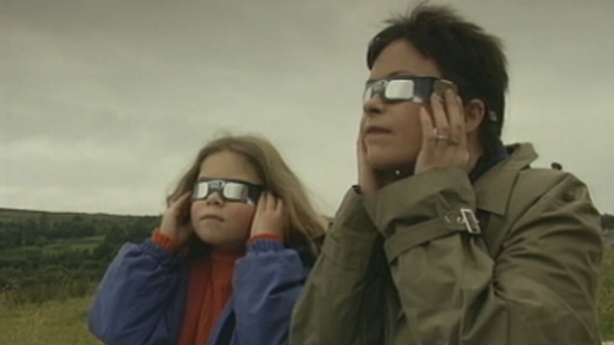 Eclipse watching in the west of Ireland (1999)
Thousands made their way to the Phoenix Park in Dublin, where the sun shone and eclipse shades were selling out fast. At eleven minutes past eleven those with proper equipment were treated to a spectacular view.
David Moore of Astronomy Ireland, who has spent months preparing for the eclipse, was delighted but even he got a surprise mid-eclipse,
It actually got visibly dark, which I didn't really expect to happen...and it got cold.
No one was disappointed by the spectacular event, and it was worth taking a day off from work, according to one man,
It was something not to be missed.
Dublin is one of the least likely places on the planet to view a total solar eclipse, and as the next one is not due until 2090, for the people who turned out today it really was an experience of a lifetime.
An RTÉ News broadcast on 11 August 1999. The reporter is Annette O'Donnell.