The Samuel Beckett Festival at the Barbican stages the writers entire drama output in a programme that explores his life and work.
The Gate Theatre's Samuel Beckett Festival at the Barbican in London was officially opened by President Mary McAleese. A performance of Beckett's 'Waiting for Godot' is the opening show. There is also an exhibition of the photographs of John Haynes who was the in-house photographer at the Royal Court Theatre when Beckett was directing one of his plays there.
All 19 of Beckett's plays will be staged at the Barbican in what Director of the Gate Theatre, Michael Colgan, describes as one of the greatest celebrations of any writer in modern times.
It is probably the biggest celebration of any writer that's ever been done.
Three leading performers Dave Allen, Sinéad Cusack and Penelope Wilton have been invited to join members of the Gate Company in reading selections from Beckett's work.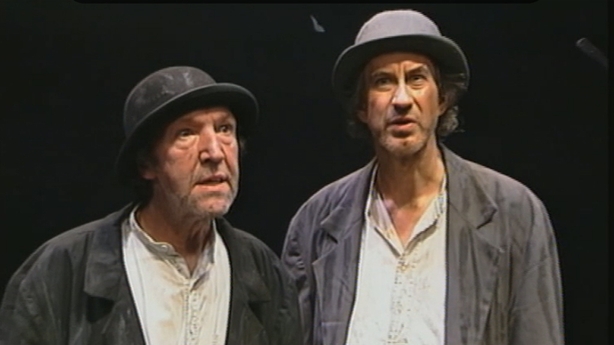 Actors Johnny Murphy and Barry McGovern in Waiting For Godot
One of the guests at the launch party is actor John Hurt who had watched a preview of Waiting for Godot and was struck by how extraordinarily accessible the work is when on stage.

An RTÉ News report broadcast on 1 September 1999. The reporter is Colm Connolly.