Best known as a stop off point for people travelling across the country could Kinnegad be the love capital of Ireland?
Kinnegad in County Wesmeath is a town beloved by Christy Moore and Terry Wogan. Locals and visitors alike are quick to extol the virtues of the town.
Kinnegad is the best place to be in Ireland.
Coaches stop in Kinnegad en route to towns in the west of Ireland. As such, it is a great place for those passing through to meet potential suitors. When she has the time, one woman on her way to Galway says she enjoys stopping at Kinnegad for the men.
Kinnegad's reputation as place to find love has gone further afield, with one amused Londoner saying,
I've come here specially; I'm looking for a wife.
Two local priests have always believed that
Love stories begin in Kinnegad and they have done so for years.
To rival Knock, they are thinking of setting up a marriage bureau at the crossroads in Kinnegad. Another man believes this is a good idea,
Knock is finished; Kinnegad is now the place to get married in.
A bride and groom who met, got engaged, and were married in Kinnegad are also going to have their honeymoon in Kinnegad.
Some people like Paris, we like Kinnegad.
'Off Mike' presented by Mike Murphy is a six-part series that ran in the summer of 1989; the first episode was broadcast on 7 July 1989.
This episode of 'Off Mike' was broadcast on 21 July 1989. The reporter is Gerry Reynolds.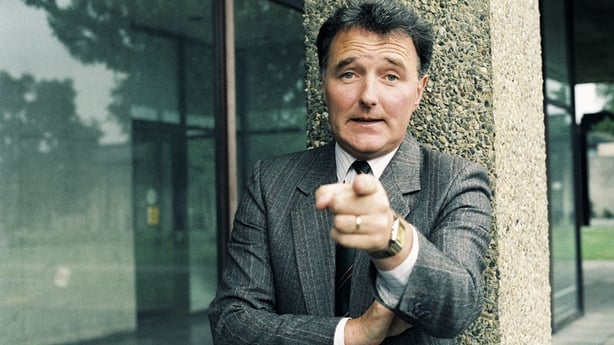 Mike Murphy in a publicity shot for 'Off Mike' in 1989.