Nutty gizzards, James Joyce lookalikes, readings from Ulysses and gorgonzola cheese sandwiches all part of Bloomsday.
Bloomsday is an annual celebration of James Joyce's novel 'Ulysses' the events of which took place in Dublin on 16 June 1904.
Ulysses fans began the day with an early morning visit to the Joyce Museum at Sandycove Tower in Dublin. This was followed by the traditional Bloomsday breakfast of hearts and gizzards.
Leopold Bloom's movements were recreated throughout the day by James Joyce lookalikes, accompanied by Ulysses readings at various venues throughout Dublin city.
At Joyce Tower, actor Barry McGovern recited the lunchtime thoughts of Bloom.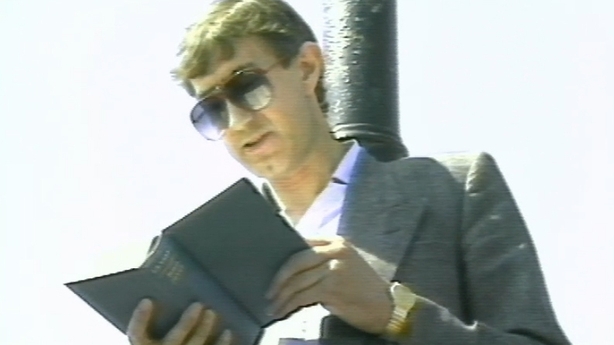 Actor Barry McGovern
At Davy Byrnes, one of Bloom's favourite pubs, gorgonzola sandwiches, and port were consumed over lunch.

An RTÉ News report broadcast on 16 June 1989. The reporter is Lorna Donlon.