Tension in the village of Ahascragh as some parents defy a boycott declared on the local school over the teaching of subjects through the Irish language.
Ten parents in the village of Ahascragh in County Galway are defying the moral force of the community and continue to send their children to Ahascragh National School upon which their neighbours have declared a boycott because of Irish.
The teacher at the centre of the dispute is Seán Mac Donncha, a renowned sean-nós singer. His wife Bríd is also a teacher in Ahascragh National School.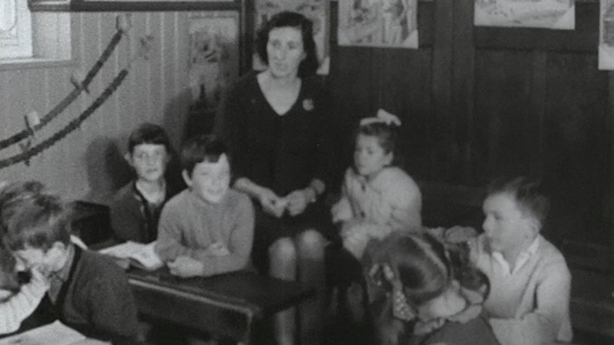 Seán Mac Donncha was born and reared in the Connemara Gaeltacht and does not understand the opposition some people have to the Irish language as it is an important part of their culture.
Head of the parents committee Joe Connolly explains the rational behind a campaign against the teaching of subjects through Irish in Ahascragh National School.
Manager of Gowla farm Walter Brett says parents held a referendum, and out of 32, six of them wished to keep Irish as the teaching medium. He believes Seán Mac Donncha is defying the wishes of the majority.
Seán Mac Donncha says the only subject taught through the language Irish, is Irish. Maths and geography are taught bilingually and history and religion are taught through English. This is disputed by Joe Connolly.
Liam Manning wants his six children to continue their education through the Irish language and says he has learned Irish from his children.
This idea of Irish being rammed down their throat in school is completely ridiculous.
Joe Connolly declares an interest in Irish culture and would like to see the promotion of Gaelic games and pupils attending feiseanna. He thinks Seán Mac Donncha should teach pupils sean-nós singing.
Sheila Manning defends Seán Mac Donncha saying 18 of the local children are due to attend a feis. She displays three certificates her children won for sean-nós singing at a feis. They were taught singing at school.
Solicitor Norbert Corbert was part of a successful campaign against teaching through Irish held in Ballinasloe. He denies he is acting for the Language Freedom Movement (LFM). He served strike notice to Seán Mac Donncha and the dispute has spread to the nearby national school in Eiglish which was called out in sympathy.
Friends of Seán and Bríd Mac Donncha were afraid to speak to reporters. They are fearful for their children and are worried about loss of business or their jobs. Rita Concannon says parents should not be afraid to send their children to school.
The strike is not the answer to this, I don't think that anybody should use the child to get what they want.
This episode of Féach was broadcast on 22 June 1969. The reporter is Diarmaid Ó Muirithe.