Jarveys ignoring a new regulation requiring the use of dung catchers on jaunting cars in Killarney National Park.
The Office of Public Works (OPW) calls them dung catchers but to the Killarney jarveys, they are known as horse nappies
Called a horse nappy by the jarveys, these equine dung catchers are now a requirement in Killarney National Park.
Kerry's famous jarveys are at the centre of a dispute over measures aimed at preventing pathways in Killarney National Park from being soiled by horse dung. The Jarvies say the new devices are unsuitable and impose a serious threat to the safety and well-being of both horse and human.
The new rule imposed by the OPW is being ignored by the jaunting car owners. One jarvey describes the new device as extremely dangerous to horses and passengers.
Councillor Michael Gleeson explains why the new rule has been introduced.
There are times when the horse manure is very plentiful on the pathways and on the walkways and it destroys people's shoes and clothing.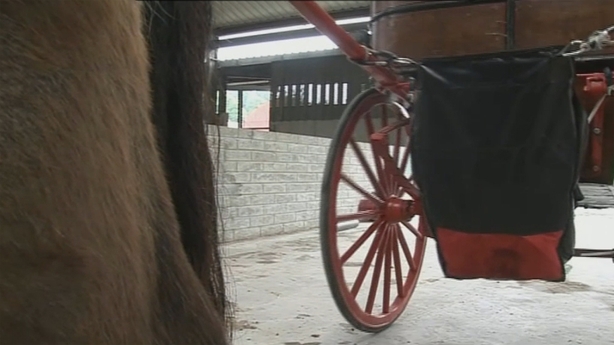 This is the device that is causing all the fuss.
One visitor to the park thinks the new rule is ridiculous.
You can't put diapers on horses.
The jarveys say they will not compromise the safety of their passengers and will continue to ignore the new restrictions.

An RTÉ News report broadcast on 9 June 2009. The reporter is Seán Mac an tSíthigh.