How are technology companies responding to the risks presented by the growth in mobile communication?
Ireland's three mobile phone companies have published a code of practice for the responsible and secure use of mobile phones. People in Ireland can not stop sending text messages it would seem. Along with Japan the country is top of the international list of texters.
The evolution of mobile phone technology however means that an equal number of hazards for consumers will pop up,
Spam, pornography and offensive messages are just some of the problems that have developed.
The Irish Cellular Industry Association launched a code of practice to address the concerns around the safety of mobile phones. They include a guide for parents and a new technology trial. One of the new initiatives will give parents more peace of mind, explains Joan Keating,
Dual access will allow both parent and child greater visibility of the traffic...that's going on in the child's account.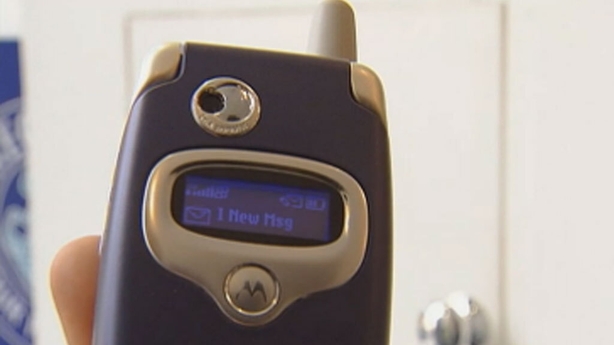 Text message alert on mobile phone (2004)
In addition the industry is developing technology to deal with illegal content before it is makes its way onto mobile phone networks, says Danuta Grey, Chief Executive of O2,
We may be able, with some degree of accuracy to detect...if illegal images of child pornography are being distributed on our networks, and then block it.
An RTÉ News report broadcast on 1 June 2004. The reporter is Anna Murphy.