A new initiative in Limerick combines technology and Lego to teach project solving and teamwork.
The Lego Innovation Studio at Mary Immaculate College in Limerick is a hive of activity, with children hard at work inventing and solving problems. Pupils say this does not feel like school at all and is bringing fun to learning.
Part of a pioneering project combining the well known building toy Lego with computer technology. Antony DiPlacido from John the Baptist School in Limerick always looks forward to the days when Lego is in the classroom,
I get to sit down with my friends and we're all exchanging ideas.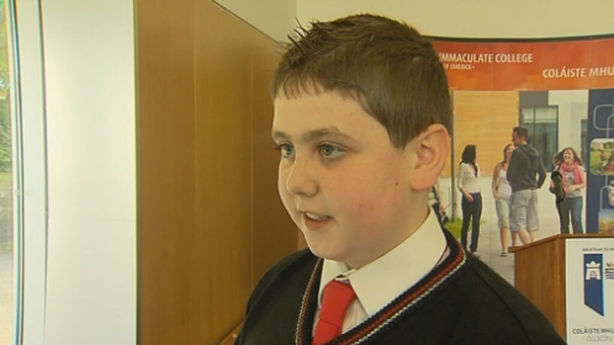 Antony DiPlacido (2014)
Michelle Costello from Scoil Na Mhaighdine Mhuire, County Clare also enjoys every minute,
We get to make loads of things and we are able to build up our imagination.
Student teacher Una O'Driscoll explains that Lego, true to its versatile nature, can be used to accompany any subject. It was particularly good when working on a lesson about the history of inventors, as it sparked the children's imagination in ways she had not predicted,
They came up with all these different inventions, and they were saying then oh we're just like the inventor we learned in school.
Fellow Mary Immaculate student Darragh O'Connell also welcomes this new approach, where children work in teams and learn to solve problems,
It's all about discovery learning. It is all about hands on learning it's not just sitting there passively learning something.
An RTÉ News report broadcast on 29 May 2014. The reporter is Cathy Halloran.