Students from France and Offaly enjoying their European language and cultural exchange in Offaly.
The midlands has a distinctly French flavour as three towns in Offaly are hosting a group of students from France.
Schools and families in Clara, Tullamore and Edenderry welcomed thirty teenagers from France who are visiting the midlands as part of a language exchange programme.
The idea is the brainchild of French teacher Angela Dunne and Edenderry Vocational School principal Tony Branbrig. They identified the need to create links between secondary students of different and educational systems, and the idea to set up such a scheme was met with enthusiasm by French teachers.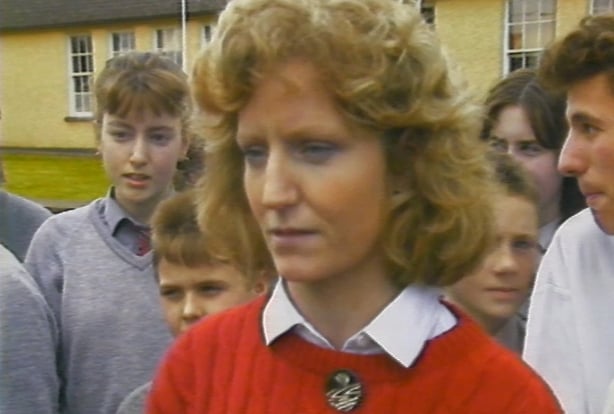 Angela Dunne Teacher
Students in Edenderry have welcomed the programme, and are looking forward to their trip to France in October.
Angela Dunne says the benefit to Irish students is twofold, as it is not only their language skills that improve but their knowledge of what life in France for people of their own age,
They come in contact with people from another country, different lifestyles and so on.
Friendships have blossomed between the two groups, with one pair of teenagers already inseparable, according to this girl,
We get on well, and I'm able to understand her very well.
The French students are settling in well despite the Irish weather,
The Irish people...are very friendly.
One boy says he and his classmates are far more interested in the language since the arrival of the visitors and are making an effort to speak it in class,
Everybody likes it now.
A 'Newsline' report broadcast on 14 April 1989. The reporter is Gerry Reynolds.