Timescales, artist Grace Weir's exhibition at the Project. Feiceann sí an ceangal idir an t-am atá thart agus an t-am atá le teacht.
The Project Arts Centre in Dublin has a reputation for staging new and innovative drama and performance art. It is the venue for 'Timescales', an exhibition by sculptor Grace Weir.
Graduating from the National College of Art and Design in 1984, Grace Weir has been the recipient of many awards and bursaries, and her work is getting international recognition.
Niall Ó Sioradáin likes the juxtaposition of old and new and thinks Grace Weir's work has a slight feel of science fiction.
An chéad rud a tháinig isteach i mo chloigeann...ná an scannán 'Blade Runner', is saghas miotaseolaíocht le teicneolaíocht le chéile...
For Bríd Mhic Fhearaí who is there with her daughter Caolfhionn, the natural world is what emerges for her.
Rudaí atá marbh le blianta...péistín gainimh, abair, ach tá ar bogadh fós...tá dath gorm agus chuirfeadh sé i gceist leictreachais...go bhfuil beatha ann fós sa phictiúr.
With the ever increasing presence of technology in our daily lives, what will future generations make of it, and what will be left behind? Here we are presented with
An ceangal a fheiceann Grace idir iarsmaí orgánach ár dtimpeallacht agus smionagar na teicneolaíochta.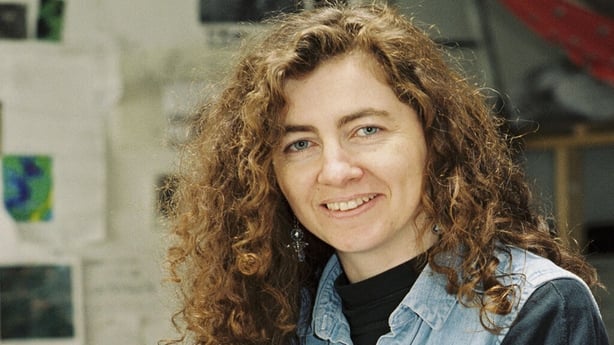 Grace Weir (1994)
This episode of 'Cúrsaí' was broadcast on 13 April 1989. The presenter is Tadhg MacDonnagáin and the reporter is Áine Ní Ghlinn.
'Cúrsaí' was an Irish-language television magazine programme. It was first broadcast on 14 October 1986 with Neasa Ní Chinnéide and Seán Ó Tuairisg as presenters. It was originally billed as "iris-chlár le béim faoi leith ar chúrsaí reatha an lae agus ar chúrsaí na tíre i gcoitinne" (RTÉ Guide, 17 October 1986). But it covered a wide range of topics, including politics, current affairs, arts and entertainment. 'Cúrsaí' was broadcast four nights a week, from Tuesday to Friday, on RTÉ 2. It ended on 30 May 1995.