Dubliner Norman King moved to Sherkin and says island living is the only way of life for him.
Originally from Dublin, musician Norman King first went to Sherkin Island off the west coast of Cork for a session in the 1970s and subsequently made the Island his home.
Singer and bodhrán player in the folk band The Wild Geese, Norman King leaves Sherkin three or four times a year to go on tour in Europe, where the group have made a name for themselves. The band has a large following in Germany.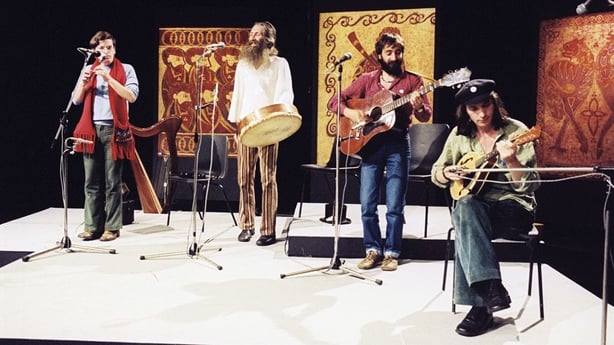 The Wild Geese performing on 'The Humours of Donnybrook' in 1981.
Norman King says he could never imagine living on the mainland again. While island life is appealing in itself, he chooses to live on Shekin because,
It's more what goes on outside the island that doesn't appeal to me.
The pace of life on the mainland, even in towns like Skibbereen, and the hassle that comes with city living, is something he does not need in his life.
He recalls a time when Tommy Feeney who sings and plays guitar in The Wild Geese, stayed on Sherkin for the winter. When the pair of them travelled to Dublin to play a gig in Slattery's on Capel Street they got completely lost on Westmorland Street.
There was I, a born again culchie holding hands with a mate.
Norman King sings a song that he wrote about Sherkin Island.
This 'Late Late Show' Special is devoted to the islands off the coast of Ireland. All of the audience are islanders or have a connection with the islands. Norman King is taking part in a panel alongside filmmaker and producer Muiris Mac Conghail, Inishbofin hotelier Margaret Day and writer and broadcaster Breandán Ó hEithir.
This episode of 'The Late Late Show' was broadcast on 5 May 1989. The presenter is Gay Byrne.