A Nighthawks appearance for Dublin band Something Happens who talk about their rock 'n roll lifestyle and perform Forget Georgia.
Nighthawks waitress Tanya (Joanne McAteer) talks to Something Happens. The band have been nominated for an IRMA (Irish Recorded Music Association) Award, but don't fancy their chances as they have been placed in a category with established groups such as The Hothouse Flowers, The Waterboys and The Pogues.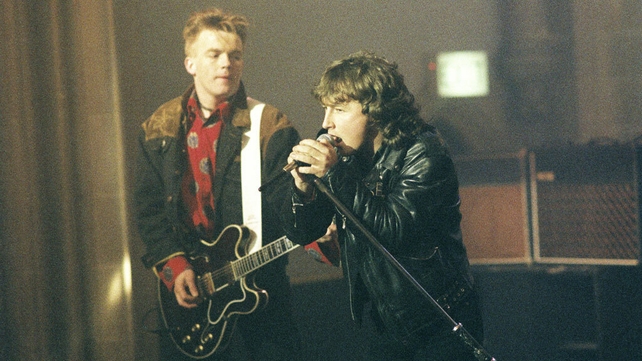 Something Happens on 'Megamix' (1988)
Something Happens released their first album 'Been There, Seen That, Done That' last October. Prior to the performance of their latest single 'Forget Georgia' singer Tom Dunne says,
We feel we owe it to our audience to try things on their behalf.
This episode of 'Nighthawks' was broadcast on 9 March 1989.
'Nighthawks' was a programme that was set in a bar/cafe where the presenter Shay Healy was also the proprietor. The content was a mixture of comedy sketches, interviews, music performances and music videos.
'Nighthawks' was broadcast between 1988 and 1992 and went out three nights a week.