A contemporary take on the barter system where goods and services are swapped to aid the local community.
In a time of unemployment and emigration, money is circulating in the local economy of Shankill. Cheques never bounce, people continue to avail of goods and services, and neighbours get to know one another. The community spirit is kept alive through a Local Exchange Trading System (LETS), a social initiative which originated in Canada. In this part of County Dublin it is known as Shankill Skills Swap.
It starts when a LETS group compiles a list of goods and services which local people are able to provide. Everyone has something to offer, from cake baking and childminding to computer skills, house painting or DIY.
The local currency units in the Shankill Swap Skills group are called 'skills'. Each 'skill' is worth approximately one pound. In return for goods or services, members write each other checks in 'skills' and these are banked with the treasurer, crediting or debiting their account. Local shops and businesses display Swap Skills stickers in their windows or on their premises.
While the economic costs are one immediate tangible benefit, building up social capital is the other. The importance of acknowledging peoples' skills and talents cannot be underestimated,
You increase their sense of self-esteem, therefore their loyalty to their community is increased, therefore they will buy more at home, they will help each other more in their own local area.
Gerry Castle of Castle Shoe Repairs has been a member of Shankill Swap Skills for four months. He has seen an increase in his customer base and used Swap Skills for Christmas presents, chiropractor sessions, and the repainting of his shop sign. He admits to having given it some thought before signing up but is very glad now that he did,
What I lose on the swings I gain on the roundabouts...it works.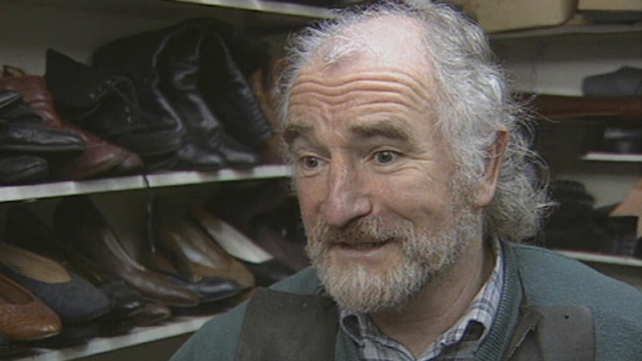 Gerry Castle (1994)
Co-founder Anna Felton encourages people to read through the Shankill Swap Skills directory as it has something for everyone. No talent is too small to be included, and it's amazing what you can find on your own doorstep. It is a completely new way for a neighbourhood to perceive itself,
The community has so much to offer, and people are just limited by their imaginations so it is really powerful for a community.
This episode of 'Family Matters' was broadcast on 9 February 1994. The reporter is Brigie De Courcy.