Parents look to learn about the hidden hazards of the internet and tips on how to keep children safe.
The internet may be a great learning resource, but the thoughts of young people navigating it, not to mention being exposed to unregulated chat rooms and pornography are a major cause for concern among parents.
According to the Internet Advisory Board, only twenty five percent of parents in Ireland say they know more about the internet than their children.
Parents are willing to learn more, and at an information meeting in Swords, County Dublin, Tony Brady from ABM Computer Training helps them put their anxieties about the internet to one side. There are positive aspects to the internet
It is there to be used as an educational resource, for entertainment and everything else.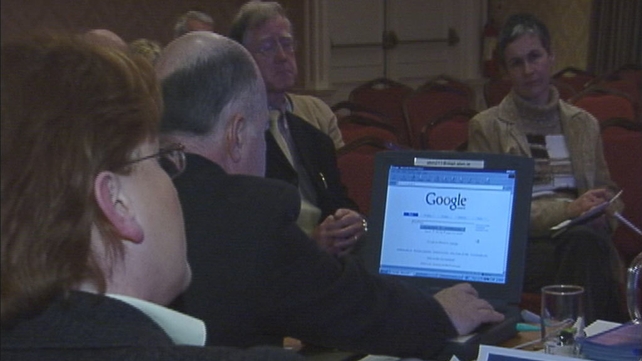 Online safety class for parents (2004)
One father of three teenage children explained why he was there,
To familiarise myself, educate myself in all the hazards of the internet, and be one step ahead of the posse.
The best advice for parents whose children are online is to be vigilant, look at what they are viewing, check file histories, monitor emails for spam and unsolicited images, and set rules, especially about disclosing personal information. Lastly, keep the computer in an open area where it can be seen.
Brian Lenihan, Minister of State at the Department for Health and Children, says that for parents, keeping young people safe online is all about communication
Know how to talk to their children, ask them the key questions, and be able to check what they're doing.
An RTÉ News report broadcast on 13 January 2004. The reporter is John O'Driscoll.