Mary Reynolds is a young woman who loves her sport of rowing but still finds time for study and a social life.
Mary Reynolds from Carrick on Shannon chats to Bill O'Herlihy during a training session on the River Liffey at Islandbridge. A college student Mary Reynolds took up rowing six years ago. Initially part of a crew of eight, she is now Ireland's top woman sculler and training hard for the World Rowing Championships in September.
Coach Aidan Nangle thinks Mary has good potential but has not reached her peak yet. It is important that Mary competes in more international competitions to see what she is really up against. Other countries fund rowers to train full time, and the difference is evident at competitions,
They are really good, and the way they look after their athletes, they've a whole retinue of servants practically accompanying those people along.
It is a cold and windy day at the Garda Boat Club at Islandbridge, but Mary is accustomed to training in these conditions.
You realise that every time there's a cold morning you can't stay in, otherwise in Ireland you'd never get out!
Training is in addition to her studies, and goes on regardless of the weather. Winter training involves running and weights and getting on the water at the weekends. As she does not live near a boathouse, travel time has to be factored in as well.
Over a weekend if you got in about 40 miles...it probably takes about 3 hours a day.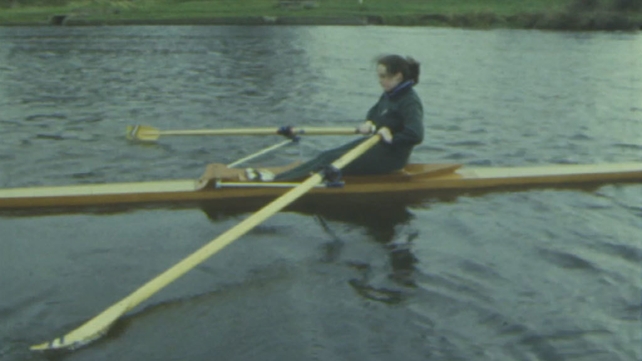 Mary Reynolds training on the River Liffey (1974)
Despite her dedication and passion for rowing Mary Reynolds is enjoys her social life.
It doesn't affect my social life at all...I'm anything but a hermit, I do the normal things that girls do when they're 18.
From 'Sunday Sports Show' broadcast on 13 January 1974. The reporter is Bill O'Herlihy.