Although a child actor Larry Gogan always wanted to be a radio disc jockey.
Famous for 'The Golden Hour' and the 'Just a Minute Quiz' on RTÉ Radio, Larry Gogan talks about his early days as a young stage actor and his ultimate goal to become a DJ.
Larry went on to become one of Ireland's most loved music men, appeared on many television programmes, was a commentator on the Eurovision Song Contest, and a voice over artist.
Larry Gogan's early love for entertainment came from his uncle Paddy, who was the manager and producer in the Queen's Theatre in Dublin and subsequently at the Theatre Royal.
He began working as a professional actor age fourteen in a play called 'Life with Father' at the Gaiety Theatre. However, Larry Gogan knew his real love was radio which came from Radio Luxembourg and DJs like Alan Freeman.
Now aged fifty four, Larry believes that it doesn't matter how old a DJ is as long as they are young at heart and play music that the listeners want to hear.
This episode of 'Bibi' was broadcast on 16 December 1988. The presenter is Bibi Baskin.

This episode of 'Bibi' was a special edition in tribute to broadcaster Larry Gogan.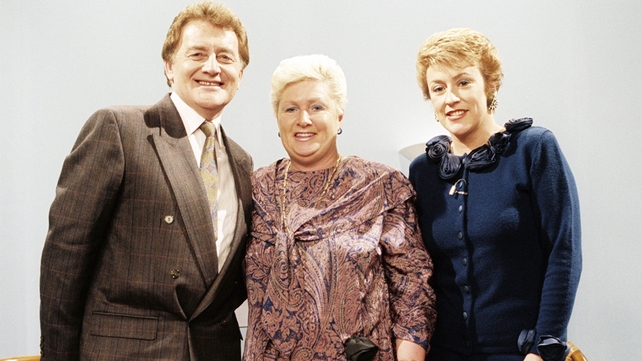 Larry Gogan, Florrie Gogan and Bibi Baskin (1988)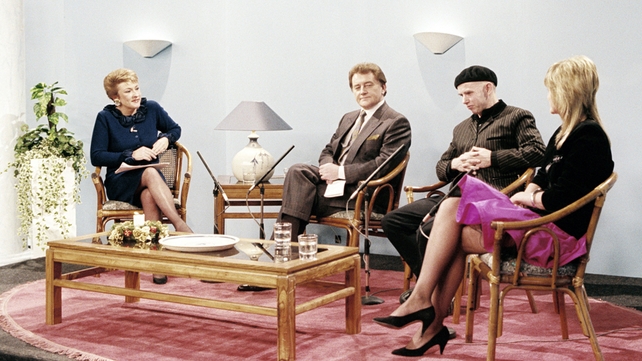 Bibi Baskin, Larry Gogan, Brush Shiels and Maxi (1988)