Sea Scout Lochlann Ó Mearáin spends the day on board the Irish Navy vessel the LÉ Eithne.
.Captain of the LÉ Eithne, Comd Kavanagh, welcomes Lochlann on board and Sub Lieutenant Boyle gives him on a tour of the vessel and an introduction to navy life.
Lochlann gets to experience first hand the daily workings on board from the control room to scrubbing down the helicopter landing pad on deck.
Every seagoing vessel uses an international language code based on flags and Lochlann hoists the flags on board the LÉ Eithne to spell out Julia, Oscar, Mike, Alpha, X-ray, India, - 'JO-MAXI'.
During an action station drill the crew of the LÉ Eithne make preparations for a military engagement.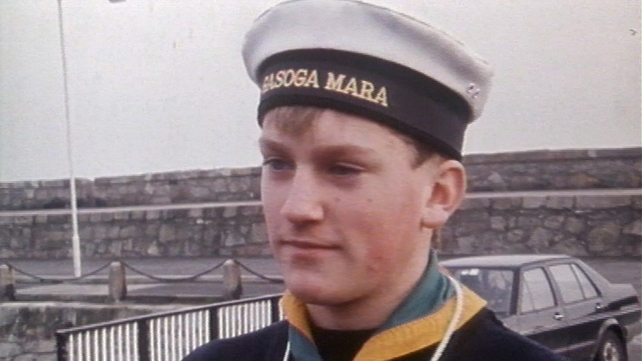 Lochlann Ó Mearáin on board the LÉ Eithne (1988)
At the end of his day, Lochlann is presented with a momentum on behalf of the LÉ Eithne crew.
This episode of 'Jo-Maxi' was broadcast on 25 November 1988. The presenter is Ray D'Arcy.