With a speed of seventy-five words per minute Paula Somers has been declared Ireland's top typist.
Paula Somers can type seventy five words a minute and does not make mistakes. She is the winner of the B&I Irish Times Typist of the Year competition.
Around eight hundred typists entered the competition and Paula came out on top with the fastest and most accurate typing skills. The prestigious prize will also add credentials to the winner's CV giving her job prospects a boost. Although her boss has not indicated she will be getting a pay rise Paula plans to bring up the matter with him.
Although boss David Dillon is very pleased for Paula and commends her work he will not be drawn on a potential pay rise.
She's absolutely first class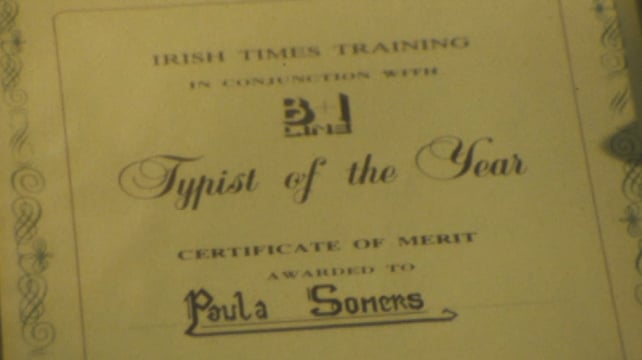 Paula Somers is Typist of the Year (1983)
The most difficult part of the test for Paula was creating a tabulated table, something she does every day in her job.
The competition was organised by the Irish Times Training Services and sponsored by the B&I line. Both companies believe that no matter what new technology comes down the line, typing skills will always be needed.
Competition organiser Mary O'Brien says that in order for anyone to operate a computer efficiently, they must know how to operate a keyboard. The work of schools in this area is important as many fifth and sixth year students are now learning to type.
The runners-up in the competition won free entry to a word processing course.
An RTÉ News report broadcast on 18 November 1983. The reporter is Alasdair Jackson.