The GAA club in the village of Oldtown in north Dublin is building a new handball alley.
Among the local facilities in Oldtown is the GAA pitch, where both football, hurling and camogie are played. Construction work is ongoing on the site to provide a new handball alley as well as new dressing rooms.
PJ Connolly, who was a teacher in the Oldtown area for many years, provides a history of the GAA club. The five acre site was bought from the Land Commission in March 1952 at a cost of £233.
One of the trustees Jim Corbally describes how a number of local businesses contributed to the purchase of the land. After purchasing the land, volunteers cultivated the land for five years to redeem the cost of buying the pitch. After five years, the investors were all paid back in full.
Father Neville, who is new to the parish, instigated the initial idea to build the handball alley with a view to the club becoming a community centre. With a generous grant from the GAA this will be the first 40 x 20 handball court built in Ireland. Much of the work is being carried out with voluntary labour.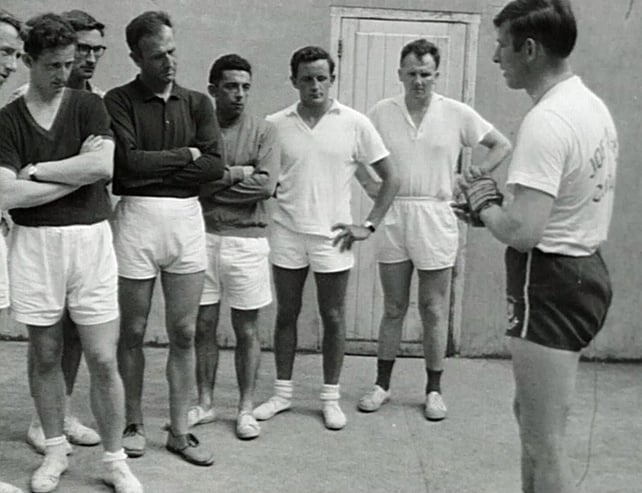 Handball Training
Local teacher, Donnacha Culhane is chairman of the Oldtown Football Club and also the new Handball Club. He sees the new handball alley as an added attraction for the club.
Gus Warren, who trains two juvenille hurling teams and two juvenille football teams at the Oldtown Club, welcomes the prospect of the new facilities.
Joe Maher takes the members of the club through the skills and rules of the game of handball.
'Gaelic Report' broadcast on 11 November 1968.