Destruction of Fatima Mansions begins to make way for new housing in a regeneration of the Rialto area.
Dublin City Council has begun demolishing Fatima Mansions flats in Dublin. The flats, built in 1951 have become known as one of the most deprived complexes in the country.
Fatima Mansions will be replaced by a mix of public and private housing at a cost of almost €150 million.
It was the day many residents of Fatima Mansions had been waiting for. Many thought the demolition and regeneration of the flats would never begin.
Deirdre Reid found it difficult to watch as the bulldozers moved in to demolish the home in which she had reared her four children. Another resident Nuala Keeley is fearful of moving into a house having never had an upstairs in her life.
I was born and reared here.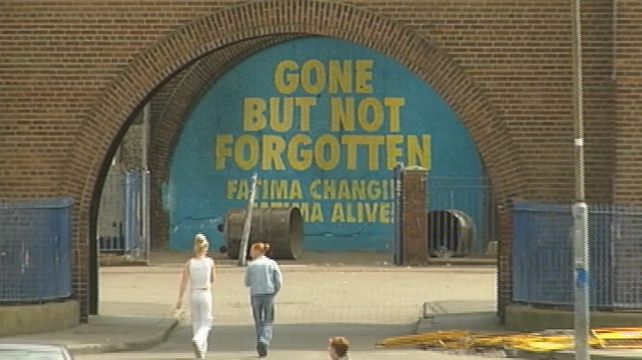 Fatima Mansion Gone But Not Forgotten (2003)
The first phase of regeneration involves the demolition of five of the fourteen blocks of flats with residents being rehoused elsewhere in Fatima. The plan is that over the next five years, the entire complex will be pulled down to be replaced by a mixture of public and private housing with sports and community facilities.
As Finbarr Flood, Chairman of the Fatima Regeneration Board says,
The environment for people living here will be totally different and it will be opened up to the areas around Rialto and South Circular Road. So hopefully, a lot of the problems that are here at the moment will disappear when the new Fatima is built.
In the mid-1980s Dublin City Council spent around €7 million in a failed attempt to regenerate the flats. This time, residents want resources put in place to deal with the social problems in the area.
An RTÉ News report broadcast on 19 August 2003. The reporter is Orla O'Donnell.