There are easier ways to cross the river Boyne at Drogheda but are they as much fun as using a homemade raft or trying to fly?
Do it yourself rafts and attempts to fly across the river Boyne draw large crowds to the National Raft Race in Drogheda, County Louth. This is the second year of the event, organised by Drogheda Rescue and Recovery Services, which attracted crowds of 30,000.
The rules are simple, entrants must be of sound mind and body, and the mile long course must be completed by anything that floats, with the exception of boats. Rafts must be constructed from recycled material, and no engines are allowed.
So after that it's the fastest pusher, peddler, paddler, or rower who wins.
There were also many hoping to claim the Bird Man of Drogheda prize. The race organisers are offering £5000 to anyone who can fly across the Boyne. 'Captain' Kelly is one such competitor, who will attempt to fly across the river using live turkeys. Speaking to reporter Conall Ó Moráin, he was unconcerned as to the effect the flight across the Boyne might have on the birds,
They'd be landing on land anyway. We'll leave them alone for next Christmas, they'll be sound enough. Five grand, like, I'll keep them as pets.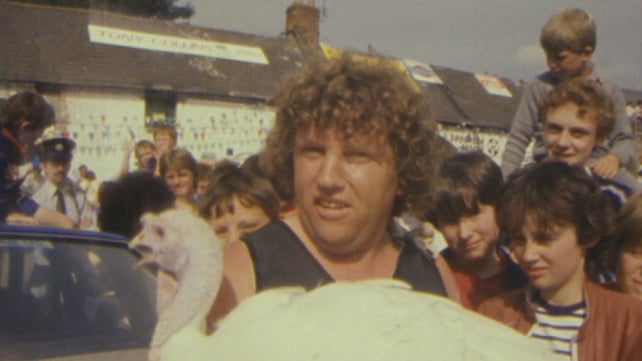 'Captain' Kelly and turkey, Drogheda (1983)
Thankfully no casualties were reported, either avian or human.
An RTÉ News report broadcast on 5 August 1983. The reporter is Conall Ó Moráin.