Couple choose the Asgard II sail training vessel as the location for their wedding ceremony.
Asgard II was built in Arklow in 1981 and put into operation as a training vessel. The vessel was named after the Asgard, the yacht used to smuggle weapons for the Irish volunteers in 1914.
The original Asgard was a wedding present to Erskine Childers and his wife Mary Alden Osgood almost eighty years earlier. It's now a museum piece.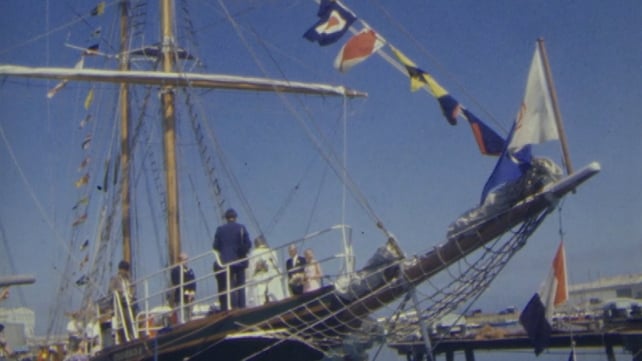 Today on board Asgard II, part-time crew member Pauline Keelaghan from Wicklow and David Swale a company director from Dublin broke with the traditional church wedding and got married on board the yacht. Their joint love of the sea brought them to the decision to marry on board the Asgard II.
The fifteen-minute ceremony was conducted by Reverend Edgar Swann.
An RTÉ News report broadcast on 29 July 1983.