Thirteen thousand scouts from one hundred and six different countries gather in Canada for World Jamboree.
Wet weather could not dampen the spirits of the young people taking part in the opening ceremony of the World Scout Jamboree at Kananaskis, Alberta, Canada. While the scouts were in fine form singing in the rain the RTÉ News crew took cover in a tent.
Thirteen thousand boys and girls and three thousand staff from one hundred and six countries from as far away as Australia, including eighty six Irish scouts and their leaders who made the journey for this massive gathering of young scouts.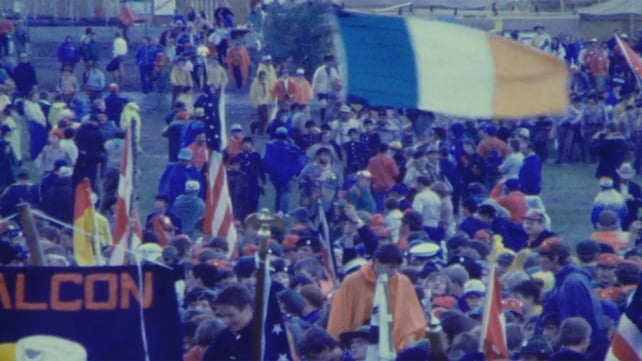 The Irish contingent travelled through Boston where they were guests of American scout families for four days before travelling on to the campsite in Alberta, just eighty kilometres from Calgary.
Chief Scout with the Irish Scout Association Joe McGough described the event as a tremendous opportunity for Irish scouts to travel to the west coast of Canada.
Kevin Maume explains how the money was raised to bring the scouts to Alberta, at a cost of £800 each and why it was so important for the Irish to be represented at the event.
Going to a jamboree like this is the experience of a lifetime.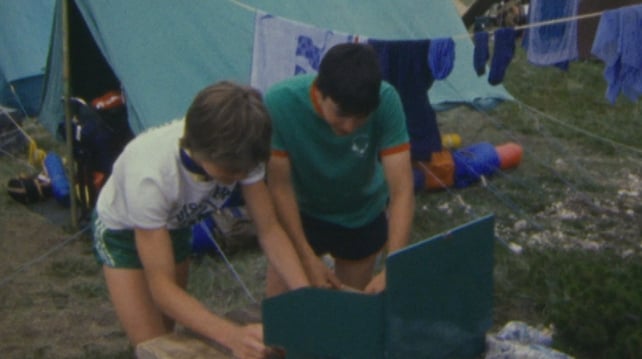 The Irish scouts have brought along a little bit of Ireland with a make-shift Blarney Stone and Pat the leprechaun.
Apart from their routine camping chores, the scouts also have time to travel the campsite with special passports to get a stamp from each participating country.
An RTÉ News report broadcast on 21 July 1983. The reporter is Andrew Kelly.