People in Clontibret have their fingers crossed as gold is discovered in the area following test drilling.
There may be gold beneath the green hillsides of Clontibret in County Monaghan, and a mining company has spent ten years drilling in the area to find out. Beneath the soil lies a geological area known as the Longford-Down Massif and this rock contains minute quantities of gold.
The quality of the gold isn't top notch, but what there is, is an awful lot of it, and that's what makes this discovery so significant.
These finds have the potential to become the largest ever gold mine in Ireland or the UK. Senior Geologist Kevin McNulty is positive about the operation to date,
One of the main significances is that we've actually breached the 1 million ounce mark, which is very significant for the company, because it means a lot more major companies will take notice of what we're actually doing here.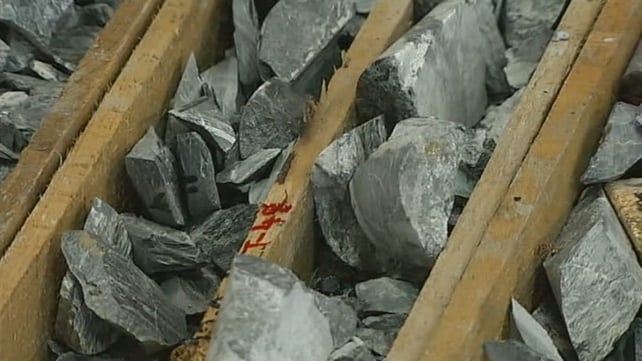 Core samples of rock from Clontibret gold exploration project (2008)
Locals in Clontibret have welcomed the news, with this man expressing cautious optimism,
I have to see it to believe it, but there must be something there, they keep coming back and forward anyhow.
If everything goes according to plan, the mine could be open in three to four years, with a life of up to 15 years. It would mean the creation of up to 600 direct and indirect jobs, which would be very good news for people in this part of County Monaghan. As one man remarks,
It's great for the area, hopefully it'll bring some business into the area, you know.
An RTÉ News report broadcast on 1 July 2008. The reporter is Richard Dowling.