The oldest public library in Ireland hosts an exhibition of books about Dublin to coincide with the city's millennium celebrations.
Marsh's Library displays a selection of books and leaflets about Dublin as part of the Millennium celebrations.
Founded by Archbishop Narcissus Marsh and designed by the Surveyor General of Ireland Sir William Robinson, Marsh's Library is one of a handful of 18th century buildings remaining in Dublin that is still used for its original purpose. For the first 150 years of its existence it was the only public library in the city.
Keeper of Marsh's Library is librarian Muriel McCarthy, who shows Doireann Ní Bhriain some books from their collections which have special connection to Dublin.
Guide books for were popular in the 18th and 19th century for long distance travellers, and the library has many dating from that period. Anglo-Irish writer Richard Twiss penned a particularly controversial account of his travels in Ireland, and did not hold back when it came to descriptions of Irish ladies. Indignation from the four corners of Ireland followed, but an Irish pottery manufacturer had the last word, as Muriel McCarthy explains,
He manufactured thousands of chamber pots with Twiss' head in the bottom of the pot. So I'll leave the rest to your imagination.
In the 18th century, library staff were constantly on the lookout for book thieves, as so many library books had the habit of going permanently missing. Thomas Moore, the poet, prose writer, songwriter and entertainer, was a frequent visitor of the library. The long hours he spent reading and researching overlapped the library's opening hours. A rather unique solution arrived was arrived at,
He used to be locked in, and then the librarian would let him out.
Another famous literary visitor was James Joyce, who read a book about the prophecies of Italian theologian Joachim of Fiore, whom he refers to as 'Joachim Abbas' in Ulysses,
Beauty is not there Stephen, nor in the stagnant bay of Marsh's Library where we read the fading prophecies of Joachim Abbas.
Jonathan Swift, Dean of Saint Patrick's Cathedral, was a governor of the library, and spent many hours there reading. He also wrote many comments in the margins of books in his own inimitable style. Swift had a unique take on the issue of begging, as it was a sad reality in the Dublin of his era, but his proposal came to naught, and now exists only in print.
Music features large in the library's collections, as Archbishop Marsh himself was a lover of music. The library is home to music books and scores from as early as mediaeval times. One of the later manuscripts is a copy of Handel's Messiah which contains the 'Who May Abide' section and is considered to be the earliest surviving text of this particular portion of Messiah.
This report for 'Bookside' was broadcast on 30 June 1988. The reporter is Doireann Ní Bhriain.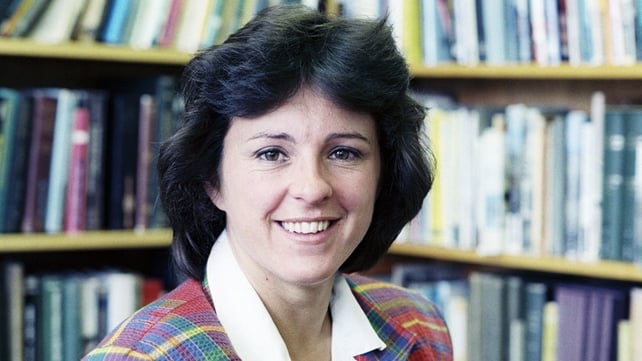 'Bookside' presenter Doireann Ní Bhriain (1988)
In comparison to its predecessor 'Folio', which focused more on writers and critics discussing books, as well as poetry and the arts in general, the focus of 'Bookside' was firmly on the readers. In an interview with the RTÉ Guide, presenter Doireann Ní Bhriain explains that it will consider books from "the buyer's and browser's point of view...we're aiming for a broad-based magazine programme about all aspects of the books world." (RTÉ Guide 17 October 1986)
First broadcast on 22 October 1986, 'Bookside' ran until 1989.