A ship has been transformed into a floating disco and restaurant moored at the Customs House in Dublin.
A former car ferry the MV Arran has been converted into an entertainment centre and is docked outside Dublin's Customs House on the River Liffey.
An old car ferry now permanently berth outside the Customs House.
The ship even has a helicopter landing pad, which is a first for Dublin city.
The opening of the entertainment centre is viewed by locals as adventurous in an area not considered to be ideal for entertainment.
One of the main investors is the Eamonn Andrews Studios which has spent a reported £750,000 refurbishing the ship that doesn't sail.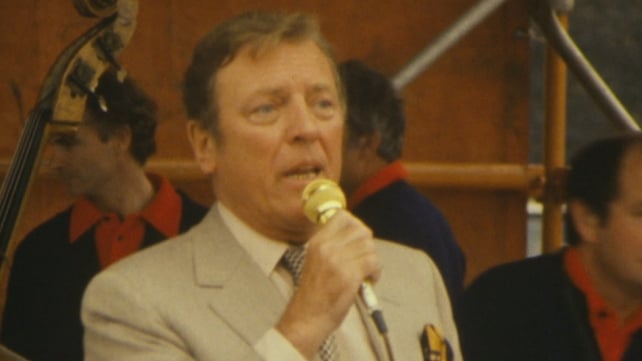 Eamonn Andrews
On the opening night, Eamonn Andrews talks of the realisation of a dream, the brainchild of Brian O'Farrell who came up with the plan to buy a ship and change it into what he calls
The most unusual entertainment venue in Ireland.
It was a bit of a challenge for Eamonn's wife, Gráinne Bourke, who assumed responsibility for the ceremonial opening of the entertainment centre by attempting to smash a champagne bottle against it, but to no avail.
The restaurant and nightclub facilities are open daily from 11.30am to 2.00am.
An RTÉ News report broadcast on 4 July 1983.
The MV Arran was originally registered in Glasgow in 1953 and measures 178 feet.