An exhibition of archaeological discoveries made on national road projects in County Cork opens in Cork Public Museum.
In the last ten years, approximately 65km of brand new major roads have been built in Cork. But before the first sod can be turned on any new road project, archaeologists must conduct a survey of it.
Ken Hanley, archaeologist with the National Roads Association tells RTE News about some of the artefacts they discovered in County Cork which span 10,000 years of Irish history,
...these include a face cup, it's a small cup in the shape of a human face, a ceramic spoon, and two other pots. These date to about 1800 BC. They're unique in Ireland and virtually unique in Western Europe, an exceptional find, very mysterious.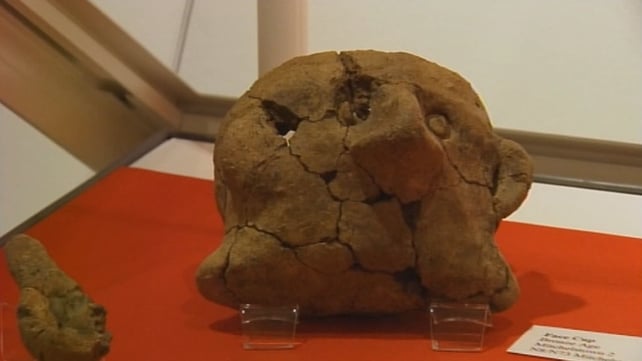 Face cup dating from 1800BC found in County Cork (2008)
Another significant find was a house from the Neolithic period located along the route of the Ballincollig by-pass.
This house was dated to 3700 BC, so it's roughly 5700 years old. What's interesting about this house is at the time it was the oldest house ever excavated in County Cork.
These and other discoveries from Ireland's distant past will be on display as part of an exhibition in Cork Public Museum.
An RTÉ News report broadcast on 10 June 2008. The reporter is Geraldine Harney.