Éamon de Valera visits Athlone and Castlebar on his final journey to the West of Ireland as president.
President Éamon de Valera travels to the West of Ireland for the last time before retiring. He travelled to Mayo to present the Glór na nGael trophy to the people of Castlebar. On the way the Presidential train stopped at Athlone where he was greeted with music and song from students and got a warm welcome from some delighted nuns.
Castlebar won first place in the 1972 Glór na nGael competition as the town which had done the most to promote the use of the Irish language in the community. The people of Castlebar lined the streets to welcome the President as he made his way to the parish church for a service to mark the Glór na nGael celebrated by the Most Rev Dr Joseph Cunnane, Archbishop of Tuam, and the co-celebrants were Fr Padraig Ó Fiannachta President of Cumann na Sagart, and Fr Tomás Ó Fiaich, vice-president at St Patrick's College Maynooth.
Éamon de Valera was accompanied by his Aide-de-Camp Lt Col Ruairí Mac Ionnraic and Máirtín Ó Flaitheartaigh the President's personal secretary.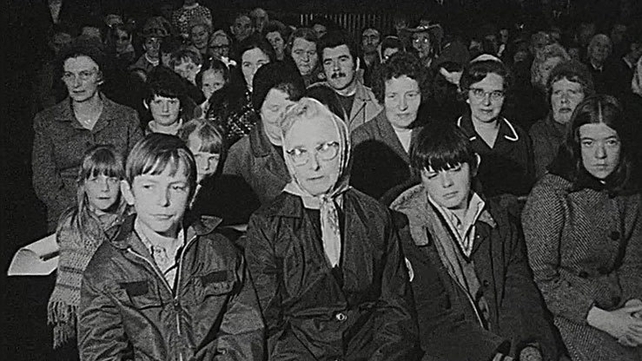 Castlebar Congregation
Later, at a civic reception, President de Valera presented Úna Ní Ghabhláin with the Glór na nGael trophy. This was the first year that the prize was awarded to a town in Connacht.
The competition had sixty-eight entries from thirty-two counties, sponsored by Cumann na Sagart and administered by Comhdháil Náisiúnta na Gaeilge.
An RTÉ News report broadcast on 27 May 1973. The film shown here is mute.