Aer Lingus marks the 50th anniversary of the company's first Dublin to New York flight.
In 1958 a Super Constellation made the first Aer Lingus flight from Dublin to New York via Shannon. Celebrations of this milestone in Irish aviation history were marked at the residence of the United States Ambassador to Ireland.
There was no mistaking the air of nostalgia at this celebration of fifty years of transatlantic flights.
Dermot Mannion, Chief Executive of Aer Lingus says the company was one of the pioneers in transatlantic aviation.
For flight attendant Miriam Conway who was on board the first flight, the journey was long but "awesome".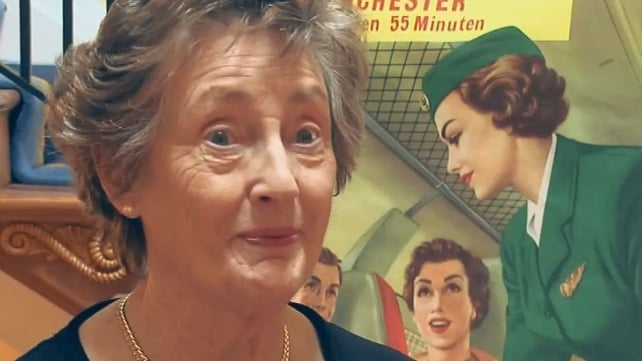 Former Aer Lingus Flight Attendant Miriam Conway
It was really a huge thing for the airline. It was a huge thing for Ireland.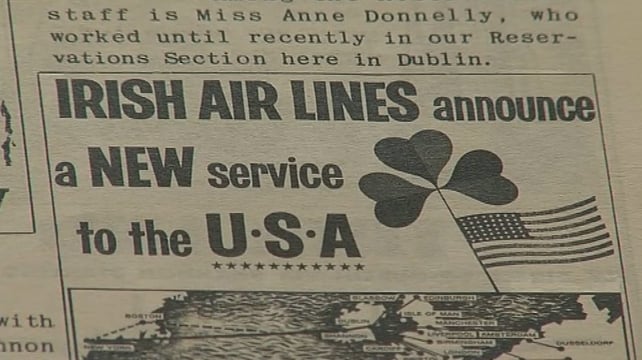 The flight finally arrived in New York after a diversion to Gander in Newfoundland. Another flight attendant on board that day was Joan Camman, who describes how they entertained the VIP passengers on the flight during the delay.
Former Taoiseach Garret FitzGerald was working for Aer Lingus at the time and his job was to report on what traffic was being carried and the number of passengers on board flights.
On the first year of the Dublin-New York route, Aer Lingus carried over 14,000 passengers. Fifty years on and Aer Lingus now carries over a million passengers a year to the US.
An RTÉ News report broadcast on 28 April 2008. The reporter is Philip Bromwell.