The markets area has been designated for urban renewal and local traders want to see a fully refurbished market operating in Limerick again.
The Milk Market, as it is known to the people of Limerick, was designated as an area for urban renewal in the last budget.
On Saturday mornings the area is still reminiscent of Moore Street in Dublin as traders continue a 130-year tradition and ply their trade from temporary stalls erected in and around the market.
However, local traders are concerned that the plans for redevelopment should include the adjacent area.
Local Solicitor Ted McCarthy provides a history of the market which was established under the Market Trustees Act of 1852 by members of the County Council, the Chamber of Commerce, and the City Corporation. The market trust ran into financial trouble. In around 1898 the trust was put into receivership on foot of debts due mainly to Limerick Corporation. The land has remained in receivership for almost a hundred years. According to Mr McCarthy, this is the longest receivership in Irish Company Law history.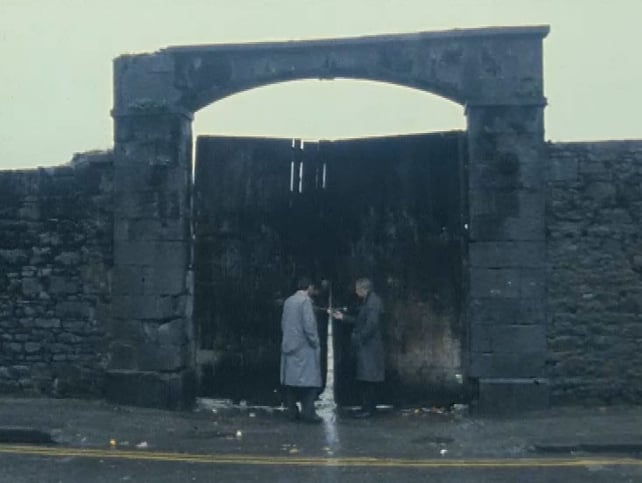 Limerick Market (1988)
Until five years ago, the trust remained in debt and so remained in receivership. They got out of debt by selling property to Limerick Corporation putting them back in the black. As the market had fallen into disrepair over the years, a dangerous building order was put in place and street traders were moved around a quarter of a mile from the site.
The trustees now want the renovation to happen as quickly as possible so that the market can open again and start trading.
Chairman of the Local Traders Association Michael Portly sees the plans for renewal as a unique opportunity for progress in the area.
We want the Corporation and the trustees to restore it to its former glory.
This episode of 'Evening Extra' was broadcast on 31 March 1988. The reporter is Eamonn Ó Muirí.
'Evening Extra' was a nightly magazine programme which ran from Monday to Friday at 7 pm dealing with current issues and people in the news. The first episode was aired on Monday 13 October 1986 and it ran for 278 shows over 2 years until the final show on 29 April 1988. The programme had numerous presenters and reporters including Siobhan Cleary, Richard Crowley, Bibi Baskin, Aonghus McAnally and Shay Healy.