Meet Keng Fu a man who sticks knives in himself and stands on glass for a living.
Mike Murphy is not too keen on watching Keng Fu a performer at Circus Hoffman who does a number of weird things in his act including sticking blades through himself and standing on broken glass.
He does all sorts of weird and strange things.
If you are squeamish or "easily revolted", then look away now.
Keng Fu recalls the first time he stuck a knife into himself, which resulted in his mother fainting. For Keng, his act is not a religious experience but simply a crazy idea that he had. Keng admits that it hurts but he can take the pain through concentration.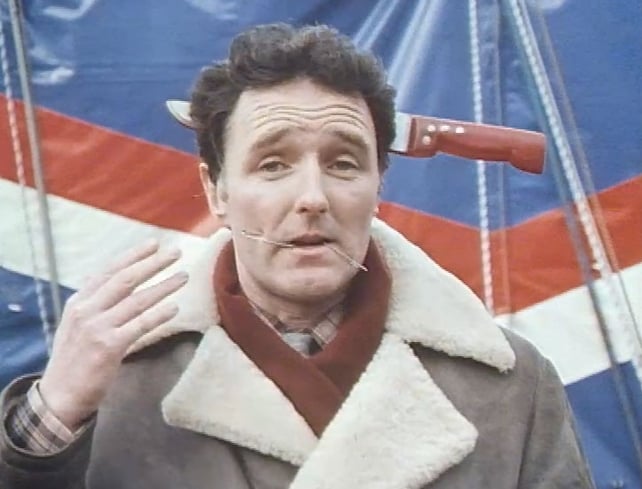 Mike Murphy on The Live Mike (1983)
According to Keng, the most difficult part of his act is where he sticks a needle through his throat. Mike Murphy refuses to look and describes it as disgusting.
How utterly revolting!
After piercing his body with knives and needles, he smashes bottles into his face and stands on broken glass barefoot while lifting Mike Murphy.
Keng describes it as
Mind over matter.
This episode of 'The Live Mike' was broadcast on 11 February 1983. The presenter is Mike Murphy.
'The Live Mike' first aired on RTÉ One on 9 November 1979 and was billed as an hourly, Friday night programme of comment, entertainment, and surprises. The programme also contained a candid-camera slot in which Mike Murphy and his team took on many disguises.