The Popemobile used by Pope John Paul II on his visit to Ireland in 1979 has been refurbished by the Dublin Wax Museum.
According to Paddy Dunning, Director of the Wax Museum, the Popemobile was a shell when they acquired it and it has taken them a few years to get the vehicle roadworthy again. Some of the original features such as the Pope's seat remain but the Popemobile now has a new Mercedes engine.
The iconic vehicle has been refurbished.
The Wax Museum plans to hire the revamped Popemobile for events. Marketing Manager at the museum Lisa Jameson says that inquiries are already coming in with one girl wanting to hire it for her wedding day.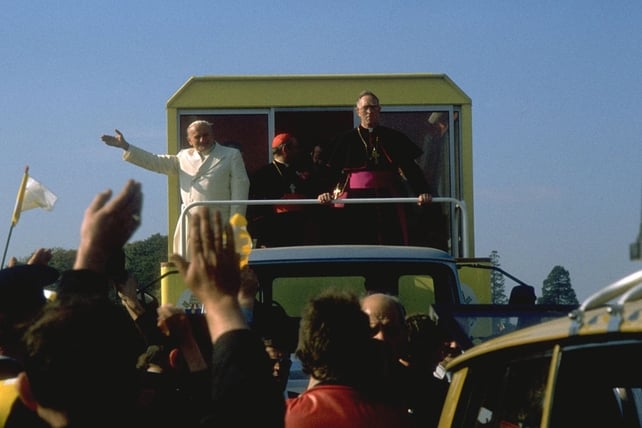 Pope John Paul II on the Popemobile (1979)
The Popemobile was out and about in Dublin today and some of those who visited the Pope in the Phoenix Park 33 years earlier recall their memories of the day.
The Wax Museum plans to bring the Popemobile to towns around Ireland to honour local heroes and also have plans to rename it as the Hopemobile.
An RTÉ News report broadcast on 26 November 2012. The reporter is Helen Donohue.