The Gaiety Theatre Dublin is the venue for Radio Éireann Autumn Proms.
The proms, a series of classical music concerts, under the baton of Radio Éireann Symphony Orchestra director Tibor Paul, will feature works by Mozart, Stravinsky, Dvorak and Beethoven.
Pianist Hephzibah Menuhin (sister of world-renowned violinist Yehudi Menuhin) an acknowledged expert on Mozart is the guest soloist. The RTV Guide of September 28 1962, in anticipation of her performance, predicted it would be,
One of the most notable musical events of the year.
Audience members arrive at the Gaiety Theatre including Michael Hilliard, Minister for Posts and Telegraphs, accompanied by his wife Kate, and Edward J. Roth, Director General of the Radio Éireann Authority, also with his wife.
Final rehearsals take place inside the theatre, with conductor Tibor Paul, violinist Geraldine O'Grady, and Hephzibah Menuhin on piano.
An RTÉ News report broadcast on 30 September 1962. This footage is mute.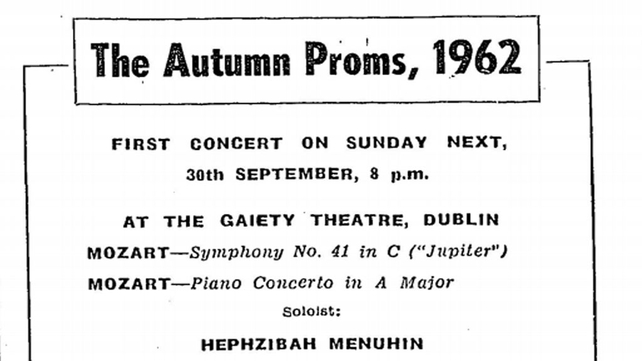 Autumn Proms advertisement in the RTV Guide, September 1962