Work begins on the centre span of the Talbot Memorial Bridge over the River Liffey in Dublin.
Construction of the Talbot Memorial Bridge is nearing completion as construction of its centre span got underway. Dubliners observed as workers hoisted beams weighing 28 tonnes into position. Eleven centre beams were loaded on a barge and pushed into midstream by a tug boat. 50,000 tonnes of steel and 5,000 tonnes of concrete are going into the work. The foundations for the bridge are reinforced concrete on a natural rock formation in the river bed itself.
When completed, the bridge will cross the River Liffey and link Custom House Quay and Memorial Road on the north side of Dublin, to City Quay and Moss Street on the south side. It is hoped the new bridge will eliminate one of the worst traffic bottle necks in Dublin. According to Dublin Corporation the south wall will be able to handle incoming traffic and a new exit road will be built eventually.
The Talbot Memorial Bridge is named after the temperance campaigner Matt Talbot and opened for traffic on 14 February 1978.
An RTÉ News report broadcast on 16 September 1977. The reporter is Michael Walsh.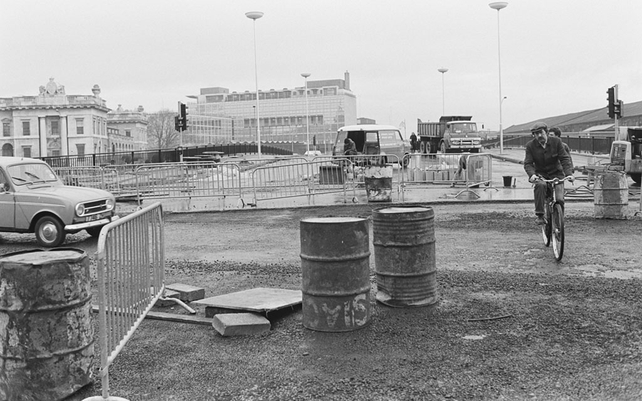 The Talbot Memorial Bridge in January 1978.