Liam Neeson unveils a bronze sculpture of Michael Collins.
Over 10,000 people turned out in the West Cork town to see a life size statue of Michael Collins unveiled on the 80th anniversary of his death. Michael Collins was assassinated in an ambush at Béal na Bláth in Cork on 22 August 1922.
For those gathered in Clonakilty's Emmet Square last night two minutes of silence marked the exact moment of Michael Collin's death at Béal na Bláth eighty years ago.
The monument was unveiled by actor Liam Neeson who played the part of Collins in the 1996 Neil Jordan film. The life-size statue in bronze was created by Cork sculptor Kevin Holland. Speaking at the unveiling Liam Neeson entertains the crowd with an impression of Michael Collins.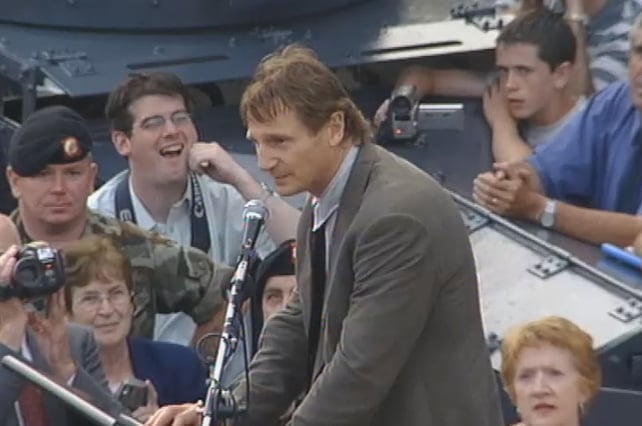 Liam Neeson at unveiling of Michael Collins Statue
Michael Collin's two closest living relatives Nancy Hurly and Joan Burworth were on hand to lay a wreath at the statue, which carries Collin's last written words,
The people here are splendid.
Traolach a Donnabháin of the Michael Collins Memorial Project describes the importance of the statue as a link in bronze between Ireland and the rest of the world, referencing the brotherhood of Irish men abroad. Grandniece of Michael Collins Elizabeth O'Sullivan describes the statue as "lively".
The ceremony ends with a lone army bugler playing 'The Last Post' in tribute to their first commander and chief.
An RTÉ News report broadcast on 23 August 2002. The reporter is Jennie O'Sullivan.