Painstaking restoration has seen steam engines brought back to their former glory and Stradbally County Laois is the place to see them.
Ahead of the Irish Steam Rally due to take place on 6 and 7 August, Bill O'Herlihy takes of a look at some of the engines that will be on display.
There are basically three types of steam engine, the thresher, the spring tractor capable of fifteen miles an hour, and the steamroller geared to a modest three miles an hour.
Many of the engines on display were found in scrap yards and lovingly restored by experts, a painstaking process involving virtual rebuilding. Many of the parts are no longer available and replacements have to be hand made, which is both timely and costly. The engines are powered by coal and can burn up to 300 weight a day. The ultimate objective of the rally is to highlight the need to establish a steam museum at Stradbally.
The first steam engine rally was held at Stradbally in 1966 and was visited by over eleven thousand people. The 1967 rally will feature
The greatest collection of steam engines ever displayed in Ireland.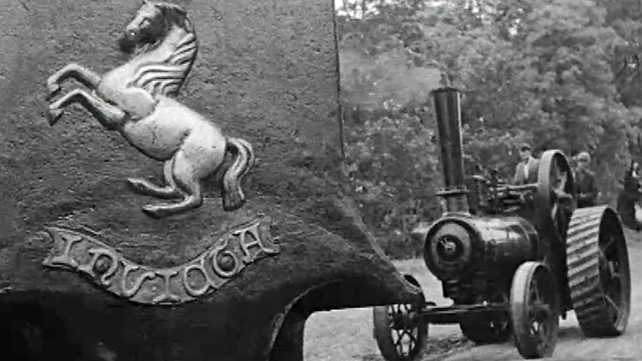 Steam Engine Rally (1967)
Colonel Charles Kidd is the man behind the rally and the President of the Irish Steam Engine Preservation Society. For Colonel Kidd the purpose of the rally is to highlight the need to preserve the engines for future generations in a museum. It is hoped that the rally will spark an interest in steam engines. Other activities at the rally will include musical chairs, an egg and spoon race, and a beer drinking race which requires the participants to drink beer and then drive an engine through an obstacle course. According to Colonel Kidd,
There is something majestic about the power and the smoothness of these machines.
This episode of 'Newsbeat' was broadcast on 14 July 1967. The reporter is Bill O'Herlihy.