The Westmeath Independent and the Offaly Independent are under the editorial guidance of Margaret Grennan, the only woman editor of a newspaper in Ireland.
The regional newspapers 'The Westmeath Independent' and 'The Offaly Independent' are printed in Athlone on a printing press which was formerly the property of the British newspaper. The press was bought from 'The News of the World' and transported from Belfast to Athlone by barge, making it the last commercial cargo on an inland waterway. The papers share Ireland's only female editor Margaret Grennan.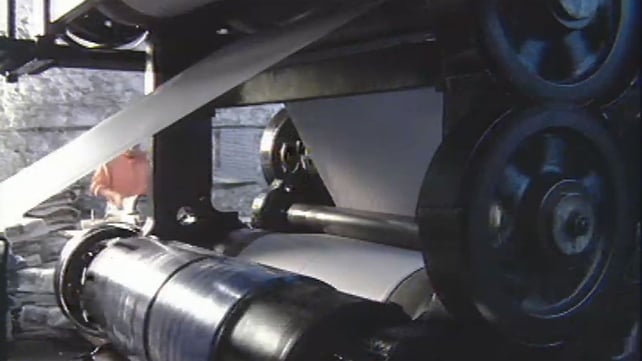 Westmeath Independent Printing Press
Margaret Grennan provides a background for both publications. The Westmeath Independent was founded in 1846 and The Offaly Independent much later. Between them, the sell about 15,000 copies.
For Grennan, the role of a local newspaper is to provide local news.
The role of a local newspaper is first of all to report the local news.
Objectivity and fairness are central to the newspaper, she believes that if you set out to be popular as an editor, you will never achieve this.
This episode of 'Out and About' was broadcast on 21 May 1987.The reporters are Liam Ó Murchú and Ingrid Miley.

'Out and About' was a magazine style programme which promised to capture provincial Ireland's summertime revels, visiting twenty towns around the country. Running from May to August 1987 and for one season only, it was part of RTÉ Television's 25th birthday celebrations. Broadcast twice weekly, on Tuesdays and Thursdays, it aimed to capture each town's individual character and atmosphere. 'Out and About' ran for one season only. The presenters were Thelma Mansfield, Liam Ó Murchú, and Ingrid Miley
(RTÉ Guide 1 May 1987).