New stamps are launched by An Post including one to commemorate 200 years of Waterford City Chamber.
The Chairman of An Post, Fergal Quinn was in Waterford to launch the commemorative stamps marking the bi-centenary of the Chamber. Celebrating developments in Waterford Port over 200 years, the board of An Post and Waterford City dignitaries boarded the 'Bel Raider', one of the most significant ships in the Waterford fleet.
The 24 pence stamp depicts the three ships, which appear on both the chamber's and the city's coat of arms. The 28 pence stamp released commemorates the golden jubilee of Muintir na Tíre and the centenary of its founder Canon John Hayes. Speaking at the launch Mr Quinn acknowledged the work of Muintir na Tíre, from its involvement in rural electrification to building community halls.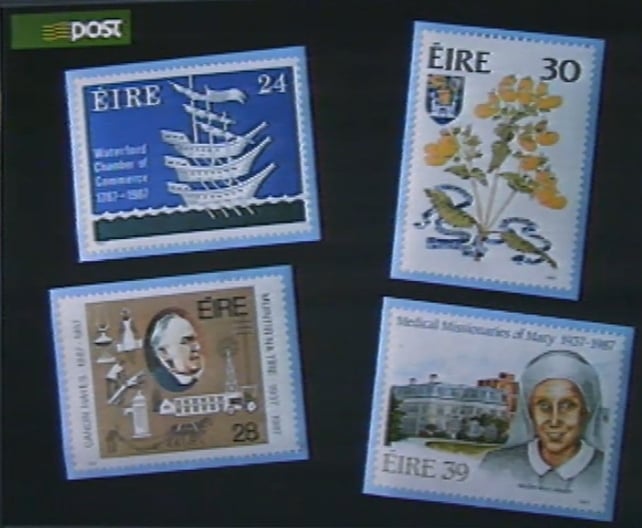 Commemorative Stamps (1987)
A 39 pence stamp marks the founding by Mother Mary Martin of the Medical Missionaries of Mary in Drogheda 50 years ago. While a 30 pence stamp commemorates the establishment of the Trinity College Botanic Gardens in 1687.
Fergal Quinn also officially reopened the Waterford Central Post Office, a Victorian-Gothic building on the city's quayside.
An RTÉ News report broadcast on 9 April 1987. The reporter is Michael Ryan.