Reaction to President of the United States Ronald Reagan's acceptance of Taoiseach Charles Haughey's invitation to visit Ireland.
The President of the United States Ronald Reagan has accepted an invitation to visit Ireland at a date yet to be confirmed. Taoiseach Charles Haughey extended the state visit invitation during lunch at the White House for Saint Patrick's Day.
The President's ancestry has been traced back to the village of Ballyporeen in County Tipperary, where his great grandfather Michael Reagan was baptised in 1829; he moved to London before emigrating to America in 1857.
Some people are disappointed the President's visit will not be part of his European tour scheduled for June. However Mary O'Farrell owner of the Ronald Reagan pub in Ballyporeen, says she and the people of Ballyporeen are actually pleased the President will be making a separate trip to Ireland, as his schedule will be less pressurised.
We now hope he that he will be able to send a few days in the country and do justice to the Irish visit.
By passing up the opportunity to come during his European tour, Mrs O'Farrell thinks the President wants to spend more time in Ireland and not just in Ballyporeen. She disagrees the President's acceptance of the invitation was diplomacy rather than a real commitment to visit Ireland. The President has often spoken of his love of Ireland and she says his wife Nancy is also keen to visit.
Neither Mrs O'Farrell nor her husband John expected the President to visit in June so they had not started to make preparations.
But we were hoping that he would come later and that then there would big things happening.
An RTÉ News report broadcast on 18 March 1982. The reporter is Joe O'Brien.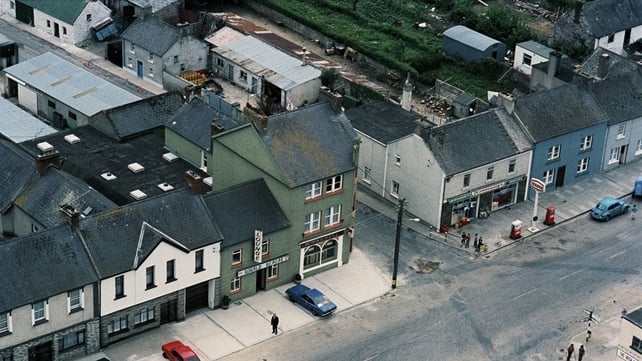 The Ronald Reagan pub in the village of Ballyporeen incl, County Tipperary.