Mike Murphy goes all David Attenborough in search of that rare species the 46A Dublin bus.
The search for the 46A bus is on, with the passengers as the hunters and Mike Murphy the broadcasting naturalist observing their every move.
We've waited several days in the icy cold of this island sanctuary hoping to catch a glimpse of the species many people believe is now extinct. The famous 46A.
Mike Murphy takes a model of the 46A bus from his hunting net to help viewers spot this rare mode of transport.
Hunters pursue it relentlessly waiting in hope at its favourite resting places, hoping for an opportunity to curtail its freedom.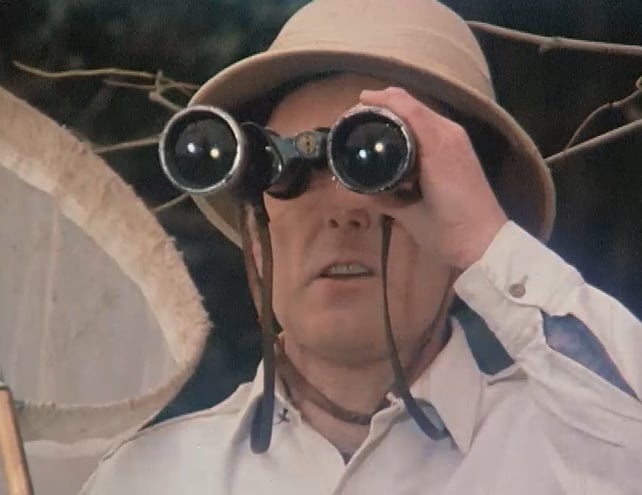 Mike Murphy (1982)
Peering through binoculars Mike spots the rarely seen 46A as its hunters (or passengers) wave it down at a bus stop. However, the bus just keeps going much to the anger of the hunters.
We've seen the 46A at close range, a rare opportunity for which I suppose we should be grateful. So now we know it isn't extinct. It does exist.
This episode of 'The Live Mike' was broadcast on 26 February 1982.
'The Live Mike' presented and starring Mike Murphy ran on RTÉ between 1979 and 1983 and combined music, comedy sketches and studio guests.