The story of two brothers and their cousin in Keady, County Armagh who built their own cinema and made a feature film for £8,000.
Brothers Enda and Michael Hughes and their cousin Denis O'Hare have built their own Cinema Paradiso in Keady, complete with velvet curtains and original vintage cinema seats. While they love the atmosphere of their 1950s-style cinema, their true passion lies in film making, something they've been interested in from an early age,
When we started out, we were very young. Making more or less glorified home movies with a Super8 camera...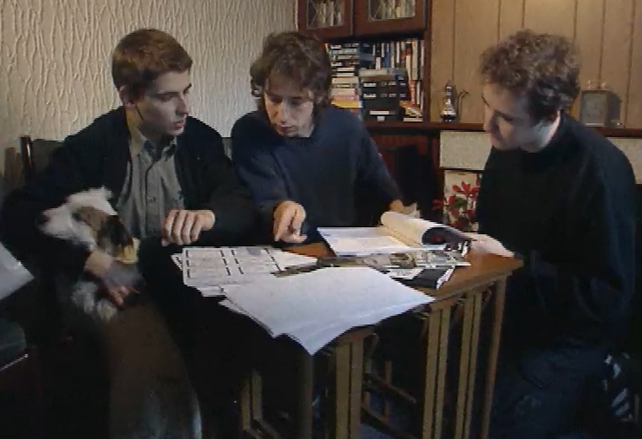 Enda Hughes, Michael Hughes and Denis O'Hare in Keady, County Armagh (1997)
Fast forward ten years and the three young men have made their first feature film. 'The Eliminator' is an action movie set in Northern Ireland which they scripted, filmed, acted in, and produced, and is completely self-financed. Their preferred film genre means that a lot of stunts, special effects and guns are required. Working on a limited budget forces them to be as creative as possible when props are being made, as Denis O'Hare explains to reporter Sarah Ryder,
The main character's weapon, a bazooka, it's made up of anything I could get my hands on. The main barrel is the inner tube of what carpet gets delivered on, it's cardboard. The handle is actually off a wheelbarrow.
'The Eliminator' is being shown in Dublin's IFC, but the trio are already hard at work on their next film 'Frock Cop',
It's the world's first ever transvestite action movie. It's about a tough cop who's forced to go undercover in drag...he realises that he can best operate as a police officer when he's donning a pretty frock.
This episode of 'Cúrsaí Ealaíne' was broadcast on 23 February 1997. The reporter is Sarah Ryder.
'Cúrsaí Ealaíne' was RTÉ Television's Irish language arts series. Tadhg Mac Dhonnagáin was the primary presenter. 'Cúrsaí Ealaíne' ran from 1991 to 1999, and during that period Mac Dhonnagáin was joined by presenters and reporters Marina Ní Dhubháin, Sarah Ryder and Harry McGee, Kate Ní Fhiongaile and Áine Ní Bhric.