An exhibition of the scientific work by Leonardo da Vinci for Chester Beatty Library at Dublin Castle.
Dublin's Chester Beatty Library is planning to welcome up to 100,000 visitors for a two month exhibition of scientific work by Leonardo da Vinci. Plans are afoot to put on display drawings and writings by Da Vinci in the summer of 2007.
This report shows shots of Da Vinci's notebook or codex which contains notes in mirror writing and scientific theories in drawings and diagrams on subjects ranging from canals and flood control to astronomy and meteorology.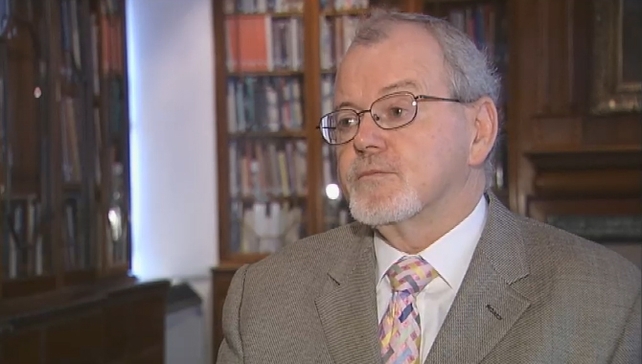 Dr Michael Ryan Director, Chester Beatty Library
Dr Michael Ryan Director of the Chester Beatty Library says,
You can see in this notebook some of the work that he did that anticipated scientific and engineering inventions and discoveries in subsequent centuries.
Many of Da Vinci's amazing discoveries were never published. The codex are on loan from the present owner and founder of Microsoft Bill Gates.
This is a unique opportunity for the Chester Beatty Library as the manuscript only goes on display once a year.
An RTÉ News report broadcast on 26 November 2006. The reporter is John Kilraine