In the 1960s attempts were made to try and level the educational playing field. In 1969 the Rutland Street Project in Dublin's north inner city was established, using pioneering educational methods to combat disadvantage.
The project was established to give intensive help to pre-school children in the area, aiming to improve their performance when they went to national and secondary school. In 1969 Séamus Holland became leader of The Rutland Street Project and the pre-school teacher was Kathleen Day.
What we were causing change was we hoped, in the children's mental apparatus, that they were going to face the rest of their school life with.
The pupils from the original intake were assessed again when they were eight years old. Séamus Holland says the results showed
Their level of education and performance had improved and the overall level of intelligence had improved but the results were not spectacular.
Current principal Elizabeth McGovern came to the school in 1971 but does not believe a year or two of high quality preschool can break the poverty cycle. In areas where social problems are severe the work of the school aided by parental concern sometimes is not enough.
The work of the preschool continues with children of past pupils now attending. Those first attendees such as Susan Bradly, Catherine Thornton and Derek Murphy may not have strong memories of their time in the pre-school, but they all agree the experiment served them well.
An RTÉ News report broadcast on 20 November 1991. The reporter is Alasdair Jackson.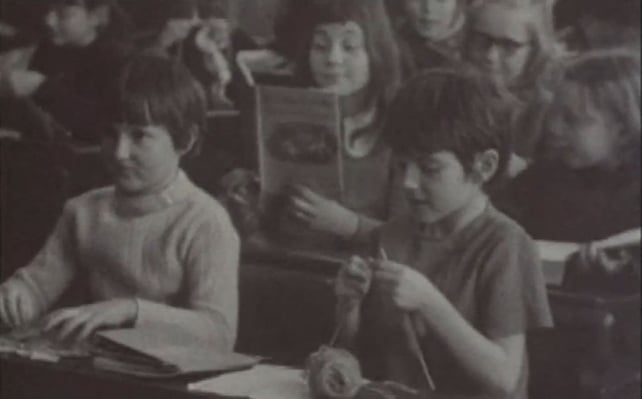 Rutland Street children in 1971.